St Margaret Lothbury
Although the Government exempted places of worship from the need to close during this third lockdown, the situation in London is such that at St Margaret's we have decided to do so for an initial two weeks when the Church Council will review this decision.
Over the last year the main guiding principle the Church Council has been following is compliance with the guidance and instructions of the government and Church of England – whether we agreed with them or not, and even where they appeared to be misguided or even later were proven to have been illegal. .
However last Friday the Mayor of London declared a major incident and has asked the churches of London to close for public worship. This request has been supported by the bishop and though we are not compelled to close it does feel the right thing for us to do at the present time.
Our services will continue to be available online & we look forward to opening the building again when appropriate.
Our regular income is obviously taking something of a hit at this time please consider supporting us by making an online donation, either as a one-off or as a regular monthly gift.
Click on the link below to give online.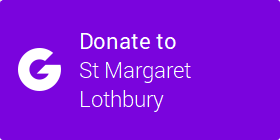 Thank you so much for helping to keep St Margaret's alive with your generosity.
A message from the Rector, Jeremy Crossley
Dear All,

May I start by wishing you a happy new year! In spite of the grim news about the virus, the good news of the vaccine means that I hope we can look forward to a better year than the one we had in 2020. The last couple of weeks have been very quiet in the City & although the church has been open each day for private prayer very few people have been in. Even though we have not been able to meet in person for so long it has been great to have been in touch with so many by email, phone or zoom & one of the privileges of being a Christian is that we can always pray for one another & know that God hears our prayer.
The year has started with us continuing on line with our services each week & with the Monday morning prayer meeting & the Thursday Men's Group continuing on zoom. In our informal service we will be looking at Paul's letter to the Ephesian Christians which is deeply encouraging as he reminds us again & again of the generosity of God & how important it is to remember that & let it shape our prayers when life is far from simple or easy. Like those Ephesians, life for most of us has been neither simple or easy & I know from quite a few of you that as the months have gone by, life has been more challenging than we might have expected in the early months of last year.
At the request of both the local authority & Mayor of London the Church Council decided to close the building for an initial two week period in the light of the way that the virus is spreading in London; this request was supported by the Church authorities & we therefore felt that as almost all that we do is on line at the moment we were able to comply without too much hesitation even though most of us felt sad that we had had to do this. It's a decision that will, of course, be kept under review but as the London Councils are now asking the Government to close places of worship, the decision may be taken out of our hands.
Given all this I'm hoping that you might join me in a Day of Prayer on Friday 5th February at some point between 7am & 6pm. My hope is that each of us will be able to sign up for a five minute slot at some. point during the day & that between us we can cover the whole time in this way. There may be some slots where more than one of us will be praying at the same time but I hope that each of us might be able to pause for five minutes at some point-I'll be in touch soon with details of how to sign up. We all know that prayer changes things & that's why I'm being bold & asking you to join me in this.
I look forward every day to the moment when we can all meet in person but in the meantime I hope that you are all keeping well & staying safe,
Best wishes,
Jeremy
All talks are still available on our Youtube channel (find them by clicking here ).
St Margaret Lothbury and St Mary Woolnoth are Church of England parish churches at the heart of the City of London.
St Margaret's is open 9.00am–3.30pm from Monday to Friday. Everyone is welcome to visit for prayer, quiet reflection or simply to enjoy the peace.
Holy communion
Tuesdays, 13.10pm at St Margaret Lothbury, 13.15 online (website and YouTube)
Informal worship and teaching
Wednesdays, 13.05–13.45pm at St Margaret Lothbury and online. Come and go as you wish.
Organ recital
Thursdays, 1.10-2pm at St Margaret Lothbury (except in August).
Prayer
We believe in the power of prayer. We have a loving Heavenly Father who longs to meet with us as we talk to him about the things that worry us and the things that make us happy. At the end of the informal services there are always people from the prayer ministry team available to pray. On Monday mornings a prayer meeting is held, online, between 7.45 and 8.45am. All are welcome – come when you can, go when you need to.
Men's Ministry
The Men's Group meets every Thursday, online, at 8am. It's a great opportunity to get connected with other men who work in the City of London. For more information or if you would like to join please contact the Church via email.
We aim to serve those working in the Square Mile; to be on hand to pray for them, to hold services, which are sensitive to the time constraints and pressures of the City, to provide other opportunities to meet with other Christians and to offer a place for reflection and prayer throughout the week.
At the heart of our life is a commitment to worshipping the Lord Jesus Christ and making it possible for others to experience His love. We aim to offer a variety of services that will enable anyone to feel at home.
APCM & Reports
We held our 2018 APCM on 30 April. All reports for the Lothbury and Woolnoth APCM will be made available as soon as possible.
Services
The main services of the week are our two informal lunchtime services on Wednesday at St Margaret Lothbury and on Thursday at St Mary Woolnoth. Although they last from 1250-1400 they are planned so that you may come when you can and go when you have to. On Tuesday each week there are more traditional Holy Communion services at 1230 at St Mary Woolnoth and 1310 at St Margaret Lothbury. These usually last around 30 minutes. Read a welcome from our Rector, Jeremy Crossley.
Safeguarding
Find information about our commitment to safeguarding here.
Archives
Like many City Churches all our records are now held by the London Metropolitan Archives.
Latest Talks
remote
Jeremy Crossley
25 March 2020
lothbury
Jeremy Crossley
19 March 2020
Giving
The finances of the Lothbury parish
It costs about £220,000 a year to run our church. That is about £4,200 a week to ensure that the Clergy and church staff are paid, the building which is Grade 1 listed is properly maintained and heated, the parish affairs are efficiently run and our worship services continue to the highest standards. Our church relies for its upkeep on the giving of the congregation in financial support and. We do not receive any support from the State or the Church of England.